Château Bethlehem
Château Bethlehem
Take mediation courses in Maastricht - also for lawyers!
Château Bethlehem in Maastricht, a historic building specifically equipped for training and courses.
The origin of Château Bethlehem dates back to the 13th century. In 1331, it came into the possession of the knights of the Teutonic Order, who considered the castle in Maastricht as an important subsidiary. The knights extensively renovated the castle at the beginning of the 16th century and then named it kasteel Bethlehem. Probably due to the analogy with the nearby castle Jerusalem. In 1796, the castle was confiscated and sold by the French occupiers. Afterward, the castle has been in the hands of the Regout family, among others.
Today, the castle complex is part of the Hotel Management School Maastricht. Several renovations have transformed this historical location into what is now called Teaching Hotel Bethlehem in Limburg. A top location with a beautiful historical atmosphere.
Why does Merlijn choose castles? Read more here!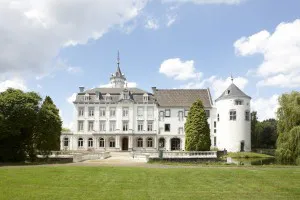 Address details:
Bethlehemweg 2
6222 BM Maastricht
Limburg
The distance from Château Bethlehem in Maastricht to >
Leeuwarden ± 3 hours and 12 minutes [324 Km]
Groningen ± 3 hours and 21 minutes [336 Km]
Assen ± 3 hours and 4 minutes [307 Km]
Zwolle ± 2 hours and 16 minutes [232 Km]
Arnhem ± 1 hour and 45 minutes [167 Km]
's-Hertogenbosch ± 1 hour and 22 minutes [126 Km]
Maastricht ± 8 minutes [3,5 Km]
Middelburg ± 2 hours and 5 minutes [187 Km]
Den Haag ± 2 hours and 24 minutes [231 Km]
Haarlem ± 2 hours and 23 minutes [227 Km]
Utrecht ± 1 hour and 51 minutes [180 Km]
Lelystad ± 2 hours and 25 minutes [238 Km]
Amsterdam ± 2 hours and 11 minutes [211 Km]
Accessibility by public transportation:
From Maastricht Central Station, take bus 30 (stop at Balijeweg). From there, it's just a two-minute walk to Château Bethlehem.
1993
family-owned business since
3000
trained over 3000 mediators
180
affiliated professionals
9.2
Average customer rating
Training at Château Bethlehem
Interested in this location? Call us for all the possibilities